Ralph and the Motorcycle
Written by Beverly Cleary
Reviewed by Caine H. (age 11)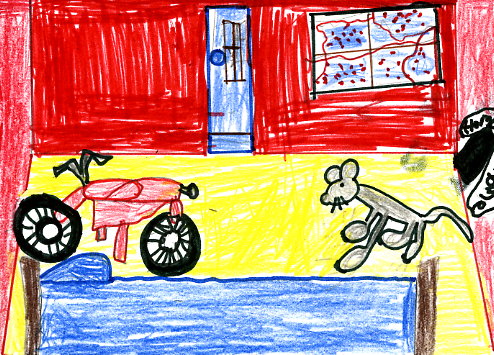 VROOM! Racing through the pages of this book you will find adventure and humor. As you will read, the main character, Ralph, enjoys going on adventures where he learns about the human world. On his newly discovered motorcycle, Ralph travels to different rooms and encounters treacherous obstacles.
The characters I found interesting were Ralph and Keith. They were characters I could relate too. Ralph is just like me, exploring all over. I thought Keith changed from being mean to being very nice. I think one funny part of the book is when Ralph goes exploring in the Holiday Inn Hotel. This is not like any other book I've read this year in school. The author keeps the reader wanting to read on to the end.
Not only is this book perfect for kids seven to 99, it is an enjoyable book to read as a family treat. The main character, Ralph, takes on human characteristics that will add a little humor and excitement to the book. Keith is another character that will grab your attention and pull you through the book. You'll enjoy this book and you might learn about life!