Alaska
Written by Frank Lauria
Reviewed by Gage D. (age 10)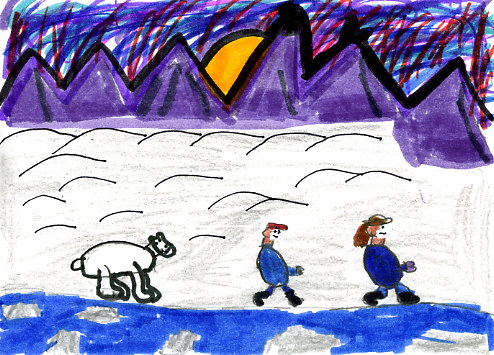 "BEAR ATTACK!" This spine chilling quote is from Alaska and it will keep your teeth chattering throughout the whole book.
A plane called a Super Cub crashed into Devil's Thumb. The pilot is the father of the two main characters, Jessie and Sean. They are determined to find their father alive even though they were told that he did not survive the crash. In their efforts, they challenged the wildest peaks on earth. In spite of all the difficulties, Jessie and Sean never gave up the hope of finding their father.
Ahaaa! I thought the book was excellent. It has tons of surprising moments. My favorite part is when Jessie and Seanmet a baby polar bear, and he eats their macaroni. The baby polar bear had cheese all over his face. Sean named him Chubby. Sean reminds me of myself because I have always been a determined climber and like challenges.
I recommend this book to any reader who enjoys thrilling books because it's full of action and adventure. True adventurers will grab this book and not put it down until the end. Ahaaa!