The School Story
Written by Andrew Clements
Reviewed by Haylee B. (age 10)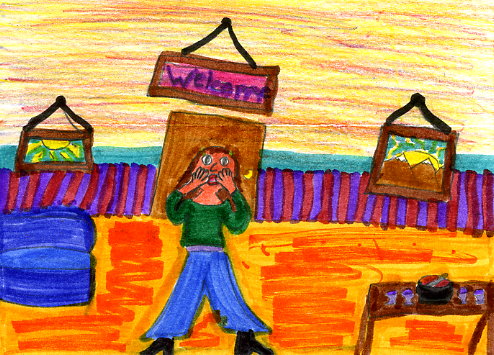 "He storms away, hands jammed in his pockets, shoulders hunched, stabbing the sidewalk with every step. Me, I cry." This sad, emotional fragment is written by an 11-year-old girl named Natalie Nelson. Natalie writes a story called The Cheater. Natalie asked her best friend Zoe to read it. When Zoe is done reading the first chapter, she thinks Natalie should get it published. Natalie's mom is a publisher. Zoe continues to help Natalie by helping her find a pen name. She asked Natalie if she knew who Theodor Geisel is. Natalie said, "No." Zoe explained that Theodor Geisel is Dr. Seuss. So they made up some names like Cassandra Day, Sherry Clutch, and Zee Zee Reisman. Zee Zee Reisman turns into a funny agent for Cassandra Day.
The author's big idea in this story is, it does not matter how old you are, when you put your heart into it, you can accomplish anything. I think this book is a fantastic book, and I really enjoyed spending time reading it. One reason I enjoyed this book is because it is about friends and stirs up different emotions. The other reason I enjoyed it was it was full of surprises. My favorite part was at the end. You will have to read that part to discover why. I'm sure it will be your favorite part too. The character that I found interesting was Zoe, because she was always full of energy. Zoe reminds me of myself, because she is energetic and messy. I think she would be a very good friend. The unique thing about this book is that most sixth graders do not ever get a book published.
When you read this book, you might have some questions. Your first question might be, "Will Natalie have her book published?" I recommend The School Story to anyone who is interested in publishing a book. I know that you will enjoy it - just like I did.