Midnight for Charlie Bone
Written by Jenny Nimmo
Illustrated by Chris Sherban
Reviewed by Tyler D. (age 10)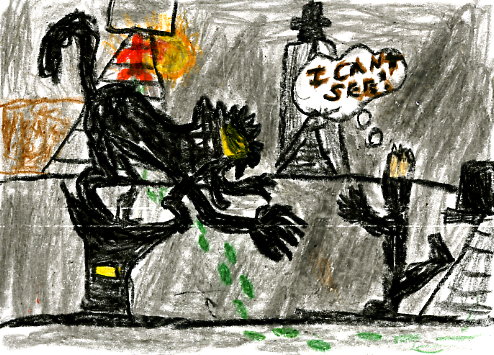 Have you ever looked at a picture and wanted it to come alive? Have you ever wondered what might happen? If so, this book is written just for you, and you're in for an exciting adventure!
Midnight for Charlie Bone is about a boy named Charlie. He soon discovers he has an ability to look at a picture and it will talk to him. He goes to an academy called Bloor's Academy and has to save a hypnotized girl at the old, ugly castle. Will he do it or not? Read the book to find out! There is another boy in the book named Billy. He used to be very nice, but since he became a spy, he's really mean. What will he do next? Read the book to find out!
I enjoyed this book because it captures you with its incredible details. You wonder what will happen next. I think that Charlie's talent to hear pictures talk is fascinating. The author gives you an outstanding image of the characters. The settings in the book add to the mystery. When I got to the end, I wanted to know what would happen next. I can't wait to read the next book in the series.
If you like like magic and mystery, I recommend this book. In fact, I think The Charlie Bone Mystery Series will actually help you like reading!