The Tale of Despereaux
Written by Kate DiCamillo
Illustrated by Timothy Basil Ering
Reviewed by Samantha J. (age 10)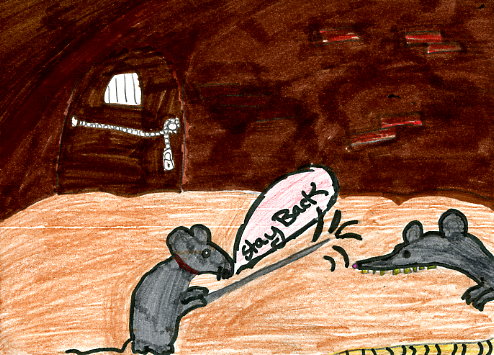 This book is the best book ever. It is recommended for teachers and kids. When you start reading this book, it is very, very hard to put down because it is so adventurous.
So, let's talk about the story. This book is about a mouse named Despereaux, who falls in love with a princess. His parents say that the idea is forbidden, so they put him where the rats go. One of the rats wanted to be king and another rat, Mig, wanted to be queen, so they captured the princess. Of course, Despereaux saved the princess. Mig learned that you don't get everything you want. That is so true...you don't get everything you want.
I never really had a favorite part because the whole book was my favorite part. The character I like best is Despereaux because he's like my mom and me. My mom and I like adventures. We have almost the same temperament, and we both show compassion towards others. In the story the rat that wants to be king changes. First he was nice, but then his heart is filled with hate.
The Tale of Despereaux, is a story for young and old readers. I think everyone would love this book if they had an opportunity to read it.
"The song was as sweet as light shining through stained glass windows, as captivating in this story in this book." -The Tale of Despereaux, page 29-