Red Dog
Written by Bill Wallace
Reviewed by Stephanie (age 10)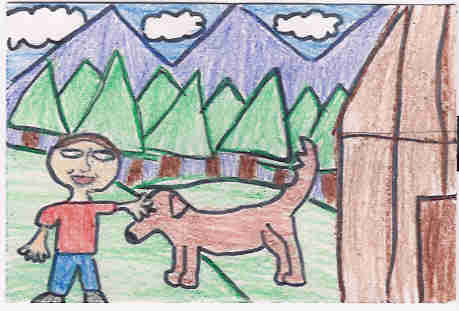 For most people a dog is a man's best friend but not for Adam. Living with a clumsy dog is a tough job for him. Especially since Ruff (the dog) is a friend with a wild mountain lion, but Adam doesn't know what's coming for him. With his stepfather out of town, Adam is left man of the house. Then three vicious gold seekers barge into the house and hold the family hostage, waiting for Adam's stepfather to come home. Then risk-taking Adam manages to escape, but two of the men take Ruff and use him to trail Adam. Will Ruff lead the men to Adam? Will Adam still have enough time to save his family? To find out more read this book.
I really liked this book because the author explained the action so well it made me feel like I was there watching the story happen. The powerful detail and word choice gave me a picture in my mind. My favorite part is when Laurie (the sister) pours hot boiling water on Pete (the bad guy), because it was funny that such a little girl could have so much courage. My favorite character is the red dog because he reminded me of my dog, Ginger. She's so clumsy just like the red dog. She's always digging in her water bowl and falling off beds. At the end of every chapter it left you hanging. I liked that because it made me keep reading.
I recommend this book to people who like dogs, adventure, and action because Bill Wallace uses such powerful word choices that keep you reading at the edge of your seat. People who enjoy dogs would definitely love this book because it shows you that even the clumsiest dogs can be the best.