Young Man in the White House: John F. Kennedy
Written by I.E. Levine
Reviewed by Scott W. (age 11)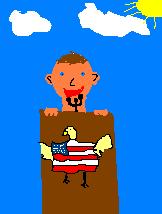 In the morning of January 20, 1961 in Washington D.C in the middle of winter a million people lined the street of Pennsylvania Ave for their new and youngest ever president to arrive, the one and only John Fitzgerald Kennedy. John F. Kennedy was born on May 29, 1917 and as a child John loved to read books about great heroes, adventure and exciting books. As a small boy Kennedy was trying to overcome a sickness. John always looked up to his older brother.
As John got older the beginning of World War II was underway with the bombing of Pearl Harbor December 7, 1941. John started as a young skipper in a PT-Boat which Kennedy had took courage to do for his country. John was assigned to the boat PT-109 that was scheduled to return back home to the United States and along the way the PT-109 was attacked by a Japanese Destroyer. Kennedy wasn?t done yet he had many tasks for the PT- Boat Squad such as choose a few crews for many of the PT- boats. All the action was a big growth for John Kennedy and his courageous personality.
After awhile John felt someone needed to inject peace into the American people and the world around them. Before that Kennedy first got married to the wealthy and new Mrs. Kennedy. Later on John got a chance to run for president of the United States and try to accomplish what he wanted to do for the American people and the world. John Kennedy was now the President of the United States of America. On January 1961 John entered the White House for the very first time taking the place of President Eisenhower. For two years John was loved by many, but one day a man didn?t respect Kennedy and assassinated him. At the age of forty-six, being president for two years ten months and six days, John F. Kennedy was shot and killed. If you want to learn more about J.F.K. read Young Man in the Whitehouse by I.E Levine.
This book isn?t like any other book I read about J.F.K. because it was Kennedy?s whole lifeline and had all the facts of his life. My favorite parts were when John joined the military then in World War II becoming Skipper. I thought this book was excellent and I loved it because I like to read about Kennedy.
I recommend this book to people who want inside information on the great J.F.K and his accomplishments. An audience with a passion for learning a lot about history or different presidents would be splendid for this book. You should read this book either just for fun or to learn interesting facts on the inspirational American president John F. Kennedy.