Frazzle
Written by Stephen Cosgrove
Illustrated by Robin James
Reviewed by Jackie P. (age 10)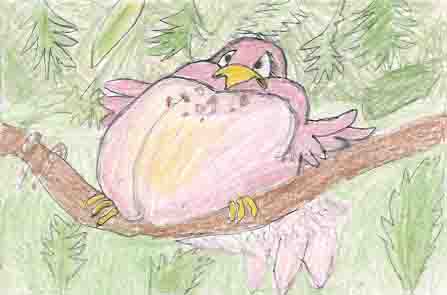 Frazzle is a bird who wasn?t eating well. One day she felt weird and laid an egg. Frazzle thought she could leave her egg. She didn?t take care of her egg so it started to fade. Frazzle felt bad that she wasn?t acting responsible. Will she ever take care of her egg? Read Frazzle to find out.
I really enjoyed reading this book because the pictures are detailed. Also, it sends an important message. The message is, ?Children need care even before they are born.? My favorite part of the book was when Frazzle learned how to take care of herself. First, to take care of yourself you have to learn responsibility, like when Frazzle took care of her baby. She had to eat better, so she didn't eat bad things. She even exercised a little bit. I felt many things when I read this book. I felt miserable when she felt naughty that she wasn?t taking care of her egg. I also felt hungry because Frazzle was eating so much. I was very happy when I read this book because someone taught her to take care of herself and I bet she felt good about herself, too.
I recommend this book to people who don?t like long books. If kids aren?t that good at reading, this is a good book for them. The book also teaches a lesson that kids can learn from.