Critters of the Night
Written by Erica Farber
Illustrated by J.R. Sansevele
Reviewed by Kiersten A (age 7)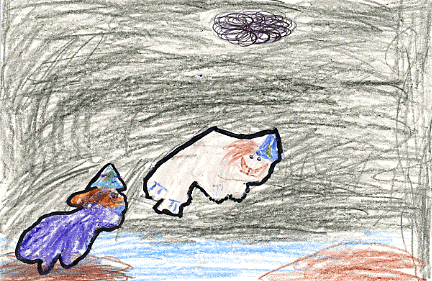 In the story three witches went to witch school. The witch telling the story didn't want to make the Colors Potion. She had other ideas. She mixed some gross things together and made a potion that turned the other witches, Miss Prickly and Miss Prune into toads. The toads hopped right out the window and onto a rock but it was really a sea monster. The monster bird was going to feed them to her babies. The story witch wants to save them and does. She goes to the grave yard and puts them in a pot. Then, poof, by using a magic spell she turned them back into witches.
I like the toads and witches because the cartoon characters looks funny. Critters of the Night is a whole family of strange and funny looking characters. My favorite part is when the two witches are turned into toads.
I recommend this book to anyone who likes to read about funny characters and sea monster birds. I think girls my age would like this book because it is about girl witches who go to witch school. I also think if you like reading fantasy and adventure you will like this story.