Tuck Everlasting
Written by Natalie Babbitt
Reviewed by Kasondra G. (age 9)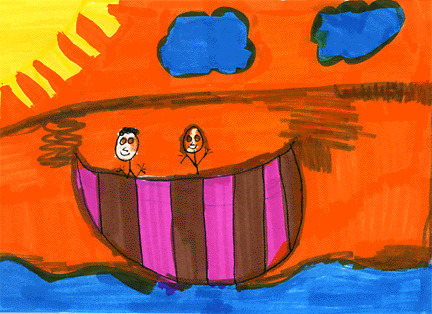 "Tuck Everlasting" is about Winnie who wants to run away. Winnie runs away and sees Jesse. Then Winnie sees Jesse drink from the spring. Then she meets his mom Mae and his brother Miles. They tell her about the spring and after, they took Winnie to their house because she knew about the spring and they don't want her to tell about it. So she meets Tuck, the dad. Mae told him what she said to Winnie. A man in a yellow suit heard about the spring and he wants to take the woods so he can sell the water and get rich. He goes to the Foster's house and makes an offer and the Fosters said, "It's a deal!". The man goes and gets the police. Then, the man took off and he got there first and said "I got the woods now!", so the man grabbed Winnie and Mae got mad and whacked the man with Tuck's gun. Mae might get hung for this now. Read the book to find out what happens next.
I liked the part when Mae whacked the man in the yellow suit, because it was funny and I would have done the same thing. I liked Mae, Winnie and Jesse the best because they surprised me and they made me laugh.This book is not like any other book I' ve read because there is the powerful spring that makes you stay alive forever. The book makes me wonder if I could stay alive forever too.
I recommend Tuck Everlasting because it has a good plot and it was an excellent book. I think fifth graders and up could read it by themselves because it has hard words and it's difficult to get through.