The Music of Dolphins
Written by Karen Hesse
Reviewed by Lauren W. (age 12)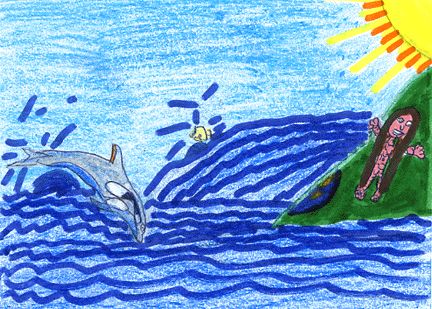 Splish! Splish! The waves crashed as I swam out to the dolphins. An airplane came and flew down to me. A man said that my hair was down to my feet and then he took me away from my dolphin mother.
Mila was found by the Coast Guard and brought to a center for scientific study. There were certain doctors that helped teach her the things she needed to know especially Dr. Beck and Sandy. Mila met a little girl named Shay whose mother locked her up in the dark. Mila had typed a journal (which is actually this book) and in it she wrote about her experiences. As she progressed, she improved her writing skills and the font size changed from large to small. She received a recorder from Dr. Beck because he had introduced Mila to music. Mila loved it. Dr. Beck thought that if Mila wanted to she could make music like Mozart. Mila was encouraged to work better when her behavior was unacceptable, and was forced to both learn and improve her behavior or go back with the dolphins and live an uncivilized life. The big idea of this story was you could do anything if you put your mind to it, even if you lived in the ocean for thirteen years.
I liked The Music of Dolphins because it was interesting. The fact that the scientists were doing tests on this girl who had grown up with the dolphins was very interesting. Another reason I liked this book was because I absolutely love dolphins and how they are so enthusiastic and they love to jump and leap and have fun in the water. My favorite part was when Mila met Shay, the other girl they were researching. Mila would get all excited, and Shay would actually laugh and talk little words with Mila. Mila reminds me of myself because I love dolphins, and I love the water. I find water just so comfortable and relaxing. Another reason she reminds me of myself is that she played the recorder and I play the clarinet, another form of the recorder but with more keys. Mila came alive when she heard music and Mozart. I like music and I feel that I come alive when I hear it and I love Mozart's pieces. I really enjoyed reading this book, The Music of Dolphins for those reasons.
I recommend this book because it caught my attention the whole time and I never wanted to put the book down at all. I would recommend this book to whomever loves books that have happy endings, to people that like dolphins and stories that you love and will always remember. I would also recommend this book to people who love stories that have great meaning in them. I would recommend this book to fifth graders and older because you would need to know some of the difficult words in this book. Parts of sentences are missing because Mila doesn't know a lot of words. Readers would enjoy the different size of the journal writing and how Mila does not want to leave the water. Be sure to check this book out of a library near you.