Vampires Don't Wear Polka Dots
Written by Debbie Dadey
Illustrated by John Steven Gurney
Reviewed by Morgan G (age 9)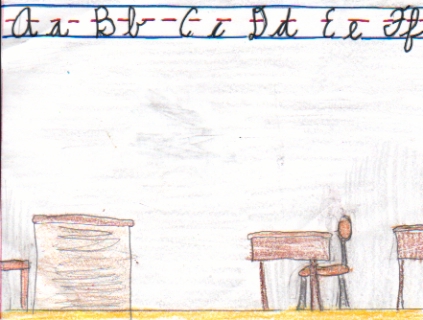 One day when the Bailey School Kids got to school, their principal came and told them that they would be getting a new teacher. Some of the kids thought the old teacher left because they always drove her crazy. Some of the kids were glad that the old teacher was gone. They started to wonder what their new teacher would be like. The principal came in he said that the teacher's name was Mrs. Jeepers. When the teacher came in the students were told that they would have to follow certain rules. Some of the kids at Bailey Elementary thought that the new teacher was a little strange. One boy named Eddie did not like listening to rules. He would shoot spit balls and throw paper airplanes at his new teacher. When the friends went out for recess Eddie told them that he thought that Mrs.Jeepers was a vampire. Melody didn't agree with Eddie. Then Eddie dared her to go with him to her house and see if she really was a vampire. Melody said that she would prove to them there was no such thing as vampires. The night they went to Mrs. Jeepers's house they hid in the bushes for a while just to make sure she wasn't home. Then all of a sudden they saw a shadow by the garage. Then when the shadow was gone they climbed into the downstairs window. They saw alot of boxes. All of a sudden they heard the upstairs door open. Then they heard a voice say "Who is down there?" Will Melody and Eddie get caught? Is Mrs.Jeepers really a vampire? You'll have to read the book, Vampires Don't Wear Polka Dots to find out.
This is a great fantastic story that is full of imagination. Melody reminds me of myself because I always want to prove things to myself. When I was younger I faced my fear of being afraid of the dark. I like the part when Eddie and Melody sneak into Mrs. Jeepers's house. In this story you don't know what's going to happen next. A part in the book that really surprised me is when the teacher didn't say anything to Eddie when he threw spit balls at her. This is an incredible book and I love it!
I recommend this book to kids of all ages. This book is something kids will love. They will love it because there are some things in this book that could happen to them. .