Greetings, Sun
Written by Phillis and David Gershator
Illustrated by Synthia Saint James
Reviewed by Erin C. (age 7)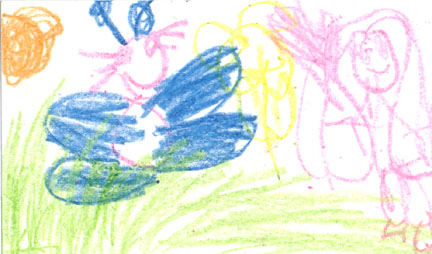 This book is about the sun going down and the stars coming out. They go to bed and get dressed. The little boy looks upside down. They eat breakfast as a family. They use a lot of colors like blue, yellow, brown, green, red, gold, white, purple, pink black and orange in the pictures. They go to school with books on the shelves. They go back home and eat soup for dinner. Mom covers the bird because the bird wants to sleep. Dad reads a bed time story for the kids. The dog barks. The kids fight with pillows. The moon goes up, the doors close and then the sun goes up. The stars go up.
I liked the book because the sun goes up. My favorite was when the kids were fighting with the pillows. The sun was my favorite character. The illustrations are about the title of the book. The book makes me feel happy and bored.
I think Felicity should read this book because she is my favorite friend and she will like it when I read it to her. Kids my age should read the book. My brother and my sister read to me.