The Green Book
Written by Jill Paton Walsh
Reviewed by Marian W. (age 12)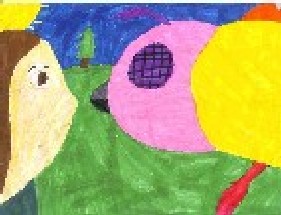 In this book a family moves to another planet which they named Shine. They explore the planet and find that all vegetation is glass-like. The family has to live on the food supply they brought with them. They find a valley with "rocks" and play in it. Suddenly, something began to hatch out of the "rocks". You will have to read the story to find out what the mysterious objects were!
I really enjoyed this book because it made me want to keep reading to see what happened next. My favorite part was when something hatched out of the "rocks". I was really interested in reading to find out what would happen next. This story made me think about what I would do if I had to move to another planet. I don't know if I would like it very much, but it sure would be interesting. It also made me think about the future of our own planet.
I recommend this book because it is an excellent science fiction story. It's written for all ages, so anyone would like it.