Fever 1793
Written by Laurie Halse Anderson
Reviewed by Taylor E. (age 11) & Sarah L. (age 12)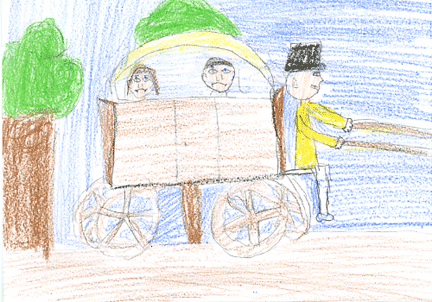 She released the handle and the bucket splashed. Matilda had just heard some terrible news. It was 1793 and Yellow Fever was threatening Philadelphia. Matilda Cook's family owned a coffee shop called Cook House Cafe. Talk was going around the cafe that Yellow Fever was striking the city of Philadelphia. People are fleeing from the city by the hundreds. Matilda's mother is hit with the disease. Now Matilda wants to know how she is going to manage to keep the Cook family together. Where is the Cook family going to go now?
Fever is a very good book about adventure, family and trying to stay away from the fever. We have read Esperanza Rising and feel these two books are similar. Matilda has everything going well until the Fever started going around and Esperanza goes from a rich, happy life to a hard-working, unhappy life. Matilda's life seems to go the same way. As we read this book we felt sad. The story also made us feel sorry for Matilda because of what she was going through. We were wondering if that could ever happen to us and our family. We liked Matilda because she was a unique character. We thought it was interesting how Matilda dealt with her problems. We think she showed great strength during the terrible events in this story.
We recommend this book to people who like books that are fast moving and full of adventure. It would be good to read for older elementary children, but it might be hard to read and understand for younger children.