Gremlins Don't Chew Bubble Gum
Written by Debbie and Marcia Thorton Jones Dadey
Reviewed by Allaine W. (age 9)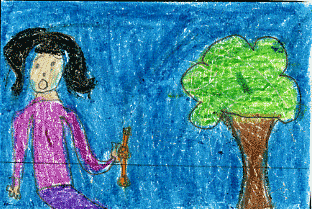 This is one of the Bailey School Kids experiences with a substitute school secretary. She messes up the school electricity. She has lots of tricks up her sleeve. Read the book and join the kids to find out if she is a gremlin or not.
I like Bailey School Kids series. The stories are fun and easy to understand.This is one of my favorite from the series because it tickles my imagination. I always imagine that I was one of the Bailey School kids. My favorite part was when the kids followed the teacher on her way home. It was exciting. The house was very spooky. I enjoyed this book because I like scary stories.
You shoud read this book. This is a book for kids who imagines a lot. It is good and entertaining book. It has a gremlin chewing bubble gum in school.