Fire On the Mountain
Written by Jane Kurtz
Illustrated by E.B. Lewis
Reviewed by Serena M. (age 8)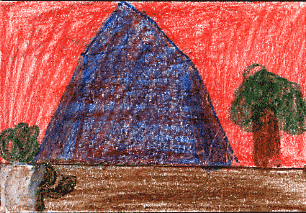 Have you ever get treated the way you don't want others treat you? Well, if you haven't, you have to read this book.It is about a little boy who is a dreamer and his name is Alemayu. He walked and traveled mountains to look for his sister. His sister works for a rich man who is bossy and impatient. When he found his sister, Alemayu began to work for the rich man too. He was treated unfairly.The rich man and Alemayu had a deal.It is a deal that could change his life. Read this book and find out how Alemayu fulfilled his dreams.
I love this book because it teaches me moral lessons. This books tells me to treat people the way you want to be treated. It also reminds me to always keep a promise. Another moral is to be wise and stick up for your self. Don't ever let anyone boss you around. This book reminds me of Eve Bunting's book, " The Day When the Whale Came." The main characters in both books are strong and have good fighting spirit. I like the illustrations because it tells more of the story. It helps me understand the text more.
I recommend this book to anyone . If you treat people the way you want to be treated, you will have a lot of friends. If you stick up for yourself, people cannot boss you around. Believe in yourself and your dreams will come true. This book is perfect for you!