Dear Mr. Leprechaun
Written by Martin Nelson Burton
Illustrated by Clint Hnasen
Reviewed by Jason B. (age 7)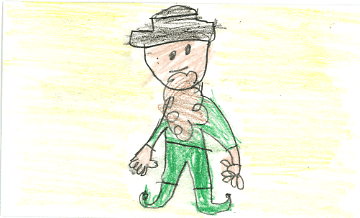 This is a true story about a little boy who wrote to a leprechaun. The boy started writing when he was 5 and kept writing until he was 11. The leprechaun was his first friend, but the boy never saw him. He only saw the things the leprechaun did. The leprechaun fixed his toys and wrote notes but he never did any magical things.
I liked this story because it was funny to think somebody can have a pen pal and never meet them. It made me jealous that the boy has a leprechaun for a friend. When I saw the notes, I started to wonder if leprechauns are real.
I liked the drawings very much. They were colorful. The leprechaun looked like I imagined it, except for the hat.
My favorite part of the book is when Mr. Leprechaun got tired of the boy writing to him. I think he got tired of reading them.
I recommend this book because I want people to enjoy it as much as I did. I think children will enjoy the story. It reminds you that it is important to keep in touch with your family and friends.