The Black Cauldron: Book Two
Written by Lloyd Alexander
Reviewed by Alex G. (age 12)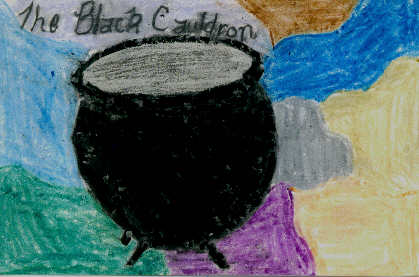 The Black Cauldron is about a group of people trying to destroy a cauldron that will make evil nearly invincible. Some of the characters are Taran, Princess Eilonwy, Gurgi, Dallben, Gwydion, and Fflewddur.
In The Black Cauldron the people that are named above are trying to find the cauldron before Arawn, the evil person. If Arawn finds the cauldron first, he will be able to create a nearly immortal army. Find out what happens by reading The Black Cauldron.
I liked The Black Cauldron because it is an adventurous book and I liked the characters. My favorite part is when they meet the three witches. I also liked when they were trying to find the cauldron, and they got into different situations. I feel this way because the characters are always going somewhere, looking for something, or getting into trouble.
I would recommend this book for 5th, 6th, and 7th graders. I would recommend it for those grades because it is hard to read, and it takes a long time to read. It is a great fiction book that is the second of a series.