Flat Stanley
Written by Jeff Brown
Illustrated by Steve Bjorkman
Reviewed by Paulina A. (age 7), Makaylah R. (age 7) & Angel L. (age 7)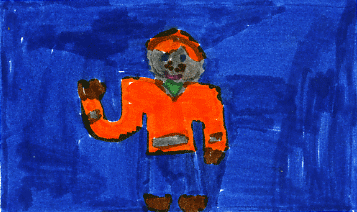 This fantasy is about Stanley Lambchop. While he was sleeping, poor Stanley got smashed by a bulletin board. At first he was upset, but then he learned that being flat could be loads of fun. He did things no normal person could do. He no longer needed keys to open doors. He was sent through the mail. He even helped to solve a crime.
In our opinion there are so many things to like, we each picked something different. Paulina thought it was cool that Stanley could help find his mother's diamond ring because she didn't know people could go down there like that. Angel thought the best part was when Stanley had to dress up like a girl. Makaylah liked the end the best.
Angel felt so sad when Stanley was smashed by the bulletin board because he didn't do anything wrong. Makaylah felt sad when people were mean to Stanley and called him names. Paulina said that it reminded her of when her brother was sick and had to lay flat. She was afraid her brother would become flat, like Stanley.
We all agree that Arthur, who is Stanley's brother, is the best brother in the world. He tries to help Stanley when Stanley is sad. We all thought it was funny when Arthur put the books on himself so he could be flat like Stanley.
The illustrations in the book matched the story and helped, especially when Stanley did things that were hard to imagine, like being sent through the mail. In the back of the book is a colorful cut out of Stanley. We think we might mail him to some of our friends.
Stanley reminds all of us of Junie B. Jones. Junie is always getting into trouble and Stanley is always getting out of trouble. We recommend this book to people who like to read about people who want to stay out of trouble.