ABC
Written by Dr. Suess
Reviewed by Ahyoung Y. (age 7)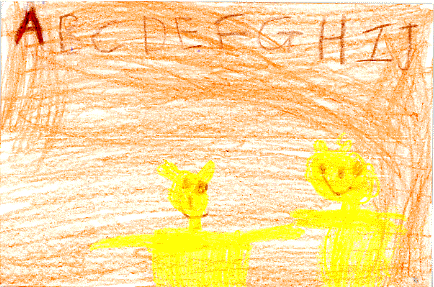 This book is an alphabet book. It goes all the way from A to Z. For each letter it always says big?, little?. For example, Big A, little A, what begins with A. This book shows many words for each letter. There is a fun character for each letter. Read the book to find out what Zizzer-Zazzer-Zuzz looks like.
This is the best book ever! It is very fun to read because it has great pictures and different characters on each page. This book can help children learn the alphabet. When I read this book it reminds me of when I learned the alphabet. It also reminds me of singing the ABC song. My favorite character is the bear on the N page. The bear reminds me Goldilocks and the three bears. The bear is wearing a cute dress and is smiling.
I would recommend this book because it is fun. It is written by Dr. Seuss and everybody loves Dr. Seuss's books! I think this might be good for babies because they can learn to talk. I also think 1st graders will enjoy this because it is fun and it have good pictures.