Morris Has A Cold
Written by Bernard Wiseman
Reviewed by Madison B. (age 6)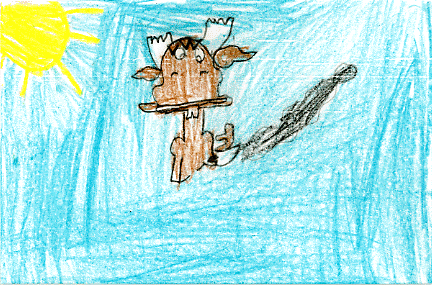 This book is about a moose named Morris and a bear named Borris. Morris has a cold. Morris said, "My nose is walking," and Borris said, "Let me feel your forehead." Borris is trying to find out if Morris is sick and some funny things happen. Read this story to find out!
My favorite part is when Borris gives Morris the soup. Borris told Morris to put the spoon of soup in his mouth. Morris put the whole spoon in his mouth. It was really funny. My favorite character is Morris because he is always doing something wrong. I liked it when Borris asked Morris to stick out his tongue so he could check his throat. Morris said, "No, that is not nice." The story reminds me of when I had a cold just like Morris. I had a stuffy, runny nose kind of like Morris' walking nose.
I would recommend the book to first graders and 6th graders because it is funny and it takes a long time to read.