Farm Flu
Written by Addie Adam
Illustrated by Nadine Bernard Westcott
Reviewed by Julius V. (age 6)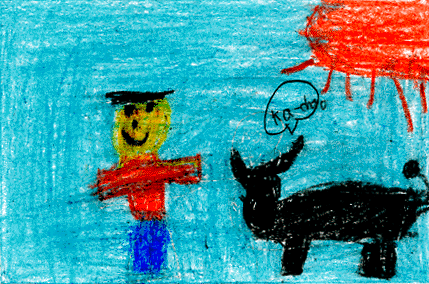 All of the animals on the farm pretend to be sick. The cow pretends to have the flu. The chickens say ka-choo instead of cock-a-doodle-doo. The piglets also pretend to sneeze. The boy brings the animals into the house to feel better. He makes the animals soup and alfalfa tea. The boy didn't get much sleep because all night he heard the animals saying, "baa!", "oink", and "moo". Read to find out what happens when the boy woke up that morning!
I like this book because there are many animals in the story and I love animals. I don't have any animals but I wish I had a hamster. This book reminds me of when I am sick and how I feel. I feel sad when I am sick because I want to go to school and I can't. I also miss my friends. The boy in the story is my favorite character because he is nice. He lets the animals in the house to take care of them because he thought they were sick.
I would recommend this book because it is funny. It is fun because I wouldn't let all the animals in my house if they were sick. I would keep them outside. The boy got frustrated with all the animals inside. I think children 7 years old and younger would like this book because they know what it is like to be sick. I think they would like to hear this book when they are sick to cheer them up!