The Wide Window
Written by Lemony Snicket
Illustrated by Brett Helquist
Reviewed by Kaci K. (age 12)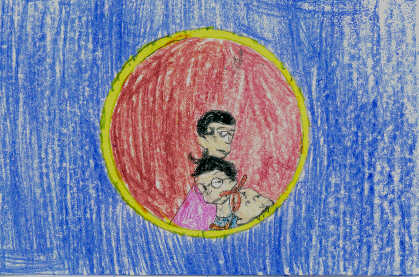 The Wide Window is a story about three children whose parents were killed in a terrible fire at their mansion. The three Baudelairs go to a new gaurdian every time Count Olaf, the bad guy, finds them in each book. Violet is the eldest child, Klaus is the middle child, and Sunny is the youngest child. In this book the children are staying with their Aunt Josephine; she's afraid of everything. This time Count Olaf, their distant relative, is trying to get them again. He just never stops. This book is adventerous and sad in a way.
I liked this book because I like mysteries. This book is pretty much a mystery because Count Olaf is in disguise every time. This book is also sad and I like sad, mysterious books because that's what makes them interesting. I also like this book because of the way the author writes the book. This book has awesome illustrations. My complements to the illustrator. I like the way the illustrations are because they give a little hint on what's going to happen in that chapter or book by the illustrations on the cover, and at the beginning, and middle of the chapter. The way that Lemony Snicket writes at the beginning and sometimes in the middle somewhere is kind of funny, yet it can be kind of boring at the beginning, but it gets better.
I recommend this book to kids in grades four through eight, if you like tragic yet kind of happy books. I recommend this book because it gives good details, and it is just a very nice book to read.