Magic Tree House-Haunted Castle on Hallows Eve
Written by Mary Pope Osborne
Illustrated by Sal Murdocca
Reviewed by Toluwani A. (age 8)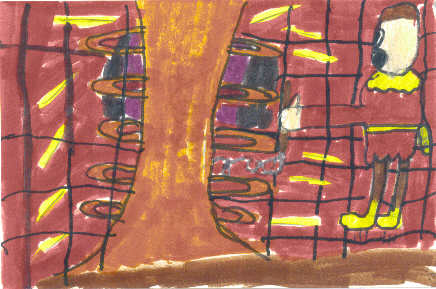 Do you like magic, adventure books? Well I have a book for you! This book is about Jack, Annie and Teddy saving the village from the Raven King. Their friend Teddy accidentally turns Jack, Annie, Teddie and himself into ravens. They fly over to the Raven King's nest. When they get there, there are two ravens guarding the nest. They see a black and shiny feather curtain. Behind it they see the Diamond of Destiny. Jack picks it up with his beak and flies it back to the castle.
I like this book because I like the Magic Tree House series. This book is different from the other books be-cause in this book Jack and Annie go an a mission with Teddy. My favorite part is when Jack turned the Raven King into what he wanted to be-a raven.
Teddy was an interesting character because he knew magic and his father was a sorcerer. Teddy had a hazel twig that was his magic wand. In another book in the series he turned into a dog.
I recommend this book for second grade and up. But even my first-grade brother likes my Magic Tree House books. If you're a person who has read the Magic School Bus series, you would like this book.