Egypt Game
Written by Zilpha Keatley Snyder
Illustrated by Alton Raible
Reviewed by Allison R. (age 11) & Samantha B. (age 12)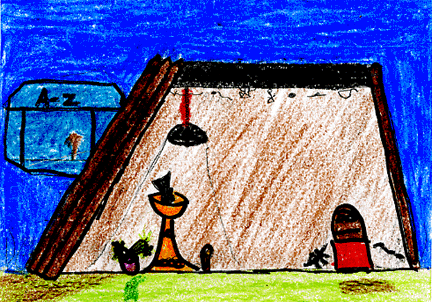 Imagine a place that is all your own and no adults have ever been there. The Egypt Game members had a place like this.
When Melanie Ross met April Hall they had nothing in common. April Hall had spent her whole life in Hollywood without any real childhood. April had a hard time adjusting to living with her grandmother in a run down apartment home that has many children of different cultures. There she met Melanie Ross who soon became a good friend. Together they created the Egypt Game in the mysterious Professor's storage yard's lean-to. The Professor was a mysterious person that people didn't know much about. They didn't even know his real name! His A-Z Curios and Antiques Shop was going out of business. This game started off with just two members, but by the end there were six. The game gradually turned into a dangerous reality.
I (Allison R.) thought this book was mysterious yet thrilling. I never thought that events would have happened when they did. I (Sam B.) thought this book was exciting and interesting because of how all the characters changed dramatically. My (Allison R.) favorite character was April. She showed real strength when times were hard. My (Sam B.) favorite character was Melanie. She was s sensible character who was calm in her actions. Something unique about this book is how descriptive the words were that the author used. The author showed that families and friendships can come in all sizes and colors.
We recommend this book to people who like suspense, a little danger, and mystery. We think this book is most appropriate for readers grades four and up.