A Bug's Life- Flik to the Rescue
Written by Jane B. Mason
Reviewed by M.C. (age 9)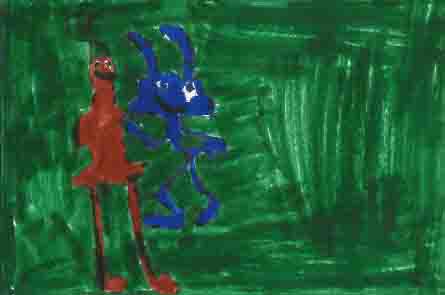 This book is about Flik, an ant, who lives in an ant colony. The ant colony harvests food for the grasshoppers. The grasshoppers are not very nice to the ants. In fact they are mean. Flik accidentally knocks over the harvest food. The grasshoppers are very angry about that. Flik decides to go out and find warriors. Will the grasshoppers be afraid of the warriors? You'll have to read the book to find out.
My favorite part of the book is when the ants build a bird. I like this part because when they were building the bird they cooperated with each other instead of fighting. Flik reminded me of my little brother. He lied to the ant colony about the circus ants being warriors, and sometimes my brother lies too.
I recommend this book because it teaches you a lesson about telling the truth, and how important it is to cooperate. This book was adapted from a movie. It was fun to read the book after seeing the movie.