Get Well, Pikachu!
Written by Tracey West
Illustrated by Tracey West
Reviewed by Brice H. (age 8)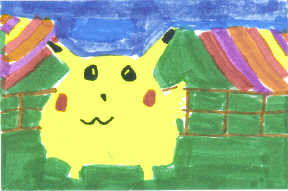 This book is about a Pokemon named Pikachu who is very sick with too much electricity running through him. His friend Ash tries to find a doctor to help him before he explodes. But the evil characters in the story, Team Rocket, are trying to steal Pikachu from Ash. Does Team Rocket steal Pikachu? Does Ash find help for Pikachu in time? You can find out the answers to both of these questions by reading this book.
I thought this book was cool because Pikachu was going to explode. I didn't want Pickachu to explode so that made me want to finish reading the book to see what would happen. My favorite part in the book was when Pikachu ran away into the forest. I liked that part best because Pikachu was running fast. I am a fast runner and I imagined that I was Pikachu in that part of the story.
The illustrator uses bright colors for the pictures. The illustrator also uses all the colors in a box of 8 crayons except the colors black and brown to make two different size borders on each page. Some borders are thin and other borders on the pages are wide. The author/illustrator uses the wide borders to write the words on. When the author writes the words on each page, the author makes a pattern. First the author uses black ink to write the words on the first two pages of the wide borders. Then the author uses white ink on the next two pages of the wide borders. After that, the author uses black ink again for the words on the next two pages and the pattern then goes back to white. The words go from black ink to white ink every two pages through the whole book.
I would recommend this book because it has a lot of exciting parts. Boys and girls who like books with exciting parts or like Pokemon stories would like this book. If you are a good first grade reader you could read this book by yourself. Most second graders could read this book without any help.