Cam Jansen and the Mystery of the Missing Dinosaur Bones
Written by David A. Adler
Illustrated by Susana Natti
Reviewed by C.S. (age 10)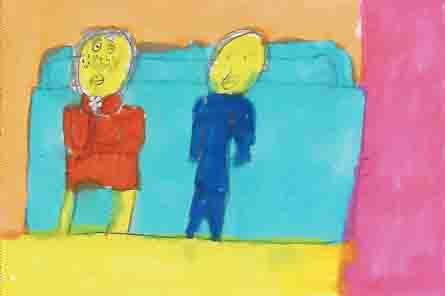 This book is about a girl named Cam and the time her class went on a trip to a museum. They went to see a skeleton of a baby dinosaur. While they were there Cam told Eric, her best friend, that she noticed that three dinosaur bones were missing from the skeleton.
One of my favorite parts of the book was when Cam noticed that the milk truck was not the right truck. The museum's milk truck had "Edna's" written on it, but the truck they saw leaving the museum said "Beth's". When Cam saw that, she turned to Eric and said, "That man wasn't picking up sour milk, he was picking up something else!" Another reason that I liked this part is that when I was in third grade last year I visited a museum on my class trip. The part about the dinosaur made me think of how much I like reading about dinosaurs and playing with models of them. Cam's friend, Eric, likes to take pictures, and I have a cousin that likes to do that too.
I recommend this book because it has a mystery in it. It took Cam and Eric a long time to figure it out. It was fun reading how they finally solve the mystery. This book is part of a series, and I also recommend it because I like the characters who are in the series.