Dolphin Freedom
Written by Wayne Grover
Reviewed by E.L. (age 9)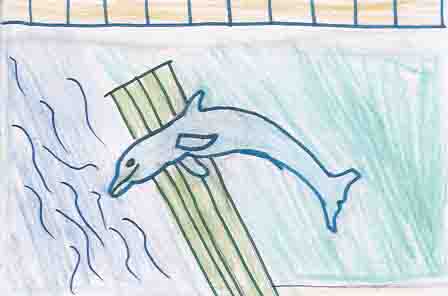 This is a book about a man, Wayne Grover, and his relationship with dolphins. Baby, a dolphin, is dedicated to Wayne because Wayne saved his life. Wayne makes friends with the young dolphin and the dolphin's pod, that's Baby's family. Wayne has become so attached to the pod that he names each dolphin and knows which dolphin is which by heart, like his own family. All the dolphins are soon in danger. Poachers have come to capture them and keep them in captivity. Baby's father is found with a bleeding wound. Wayne wants to free the captured dolphins before they die. He asks Amos and Jack, two of his diving partners, to help release the dolphins into the ocean. First, they have to think of a plan. Will the three men think of a foolproof plan and save the dolphins, or will they be caught? You have to find out by reading the book.
I think Wayne reminds me of myself. Just like Wayne, I like to help animals. The unique thing about this book is that it really happened. Wayne put himself in the book because in most books the author writes about other people and not themselves. My favorite part was when Wayne freed the dolphins from captivity. The dolphins played soccer with the boats that belonged to the men that captured the dolphins in the first place.
I recommend this book to second to fourth graders. This is a book for fans of wildlife. It will make dolphin lovers out of all children. Kids who like drama and action-adventures should also read this book. I think this book will teach children to leave nature the way it is.