Peter Pan
Written by J.M. Barrie
Reviewed by K.M. (age 9)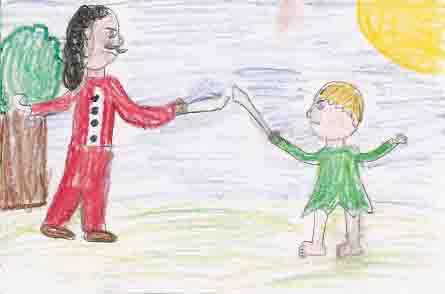 This book is about a boy named Peter Pan who never grows up and lives in a place called Neverland. He is an adventurous person who has many different friends such as Tiger Lilly, The Lost Boys, and his fairy, Tinkerbell. One day he comes to Wendy, a little girl's, house and wants to take her to Neverland. Since Wendy knew who Peter was, because she told stories about him all the time, she decided to go and bring her brothers, John and Michael, with her. To get to Neverland Peter taught them all how to fly. When they got there Peter showed them many places and introduced them to The Lost Boys. They were there for many weeks having fun adventures. One day Peter had to fight the meanest person on the island of Neverland ...Captain Hook. Captain Hook is a pirate who has a hook for a hand because Peter Pan cut off his hand and gave it to a crocodile. Captain Hook wanted revenge for what Peter Pan did.
My favorite character in this story is Peter Pan. I like him because he is a boy who wants adventures and loves action and things like that. In this story Peter changes a lot. He used to not love anyone because he had no feelings. But at the end he realizes that he has feelings and does love people. My favorite part was when Peter took Wendy, John, and Michael home. I liked it because the children were home where their parents loved them. The Lost Boys also got adopted by Wendy's parents and everyone was happy.
I recommend this book because if you like action, adventures, and love this book is just right for you. Peter Pan is a story that has been around for a hundred years and it was just as enjoyable today as it was when it was written. You will enjoy this book as much as I did!