Dolphin Adventure
Written by Wayne Grover
Illustrated by Jim Fowler
Reviewed by Bethany (age 10)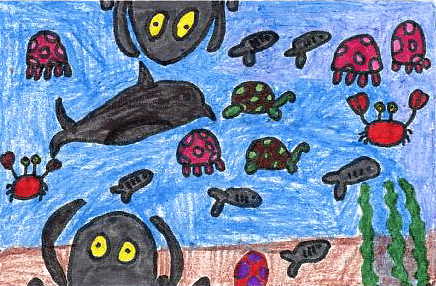 Have you ever gone diving off the coast of Florida? Well Wayne Grover has. He is the author of this book Dolphin Adventure. This book is about Wayne Grover going down into the sea to look at sea creatures. Then he hears something coming. Suddenly, he sees a family, mom, dad, and baby dolphins. The book tells the story of Wayne's incredible undersea adventures with the dolphin family.
I thought the book was exciting and my favorite part was when I saw the picture of the baby dolphin. I love baby dolphins, so this character made me want to keep reading the book. Wayne Grover is brave and I wish I could do what he does. Being able to go under the water and watch sea creatures would be great and the author made me feel like I was there.
Dolphin Adventure would be a good book for ages 7 and up. I think adults might like it too, especially, if they enjoy undersea stories.