The Cricket in Times Square
Written by George Selden
Illustrated by ?Garth Williams
Reviewed by Kyle E. (age 11)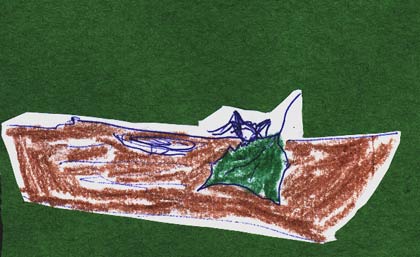 This book is about a cricket named Chester who was in Connecticut and then fell in a river. He wound up in New York. He made three new friends when he was there. One was a person named Mario and also a mouse named Tucker and a cat named Harry. Mario decided to keep Chester as a pet.
Mario is always taking care of Chester even though his family is poor. Mario runs his father's newsstand. Tucker and Harry try to help Chester think of a way to pay Mario back for taking care of Chester. They remember what they did to Mario's newsstand: there was a candle lit and they knocked it over it on to a stack of newspaper. So every day at the stand Chester makes some music from his wings for people. Everyone is happy especially Mario and Chester because his family is successful with their stand.
I think this is a exciting book because I have read it so many times and it is never boring. It talks about animals, nature, and how a cricket meets friends to survive in the city. The illustrations are old fashioned but they showed a lot of compassion because they made you feel how the characters are feeling.
I would recommend this book to people interested learning about nature, and who never get bored of rereading books that you really like to read over again. I think that once you read this book you could probably never stop talking about this to your friends.