Bears on Wheels
Written by Stan & Jan Berenstain
Illustrated by Stan and Jan Berenstain
Reviewed by YS5 (age 10)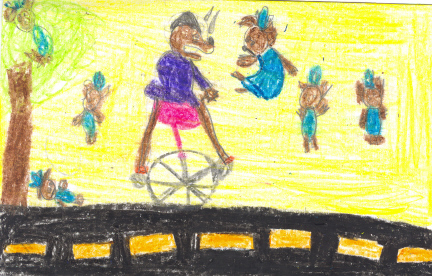 This book is about bears that are on bikes. It probably could not happen in real life. This book is not very serious. It is funny. The bears have lots of crashes and do lots of tricks. This book makes me want to ride a bike more often. Some bikes have 4, 3, 1 or 5 wheels! I think it would be hard to ride a bike with one wheel.
This book reminds me of the circus because clowns ride on unicycles and bikes.
I liked this book a lot because it was funny when they crashed. Bears were flying everywhere. That was my favorite part. The bear that had five wheels was scary. I didn't like that part.
This is a good book for counting because they keep adding more bears.
I have have not read many books by this author but it makes me want to read more of their books. These authors write about bears in all of their stories. I did read one book with these characters but I can't remember what happened. I think I will find that story again and read it again.
Reading this book made me want to try riding on a bike with one wheel. It made me think about bicycle tricks, too.
I think other people would like to read this book. People that like to read lots of books would enjoy it. This book has interesting illustrations. People would enjoy the funny part where the bears crash.
People that don't read a lot and aren't interested in books would not enjoy this.
If I were you, I would read this book!