Broken Hearts
Written by Kiki Thorpe
Reviewed by Alicia D. (age 12)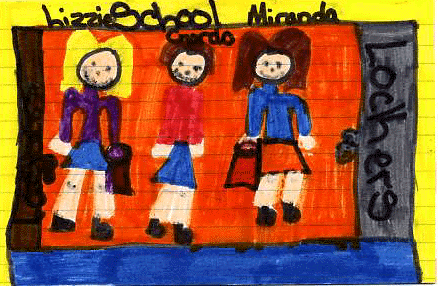 There are three high schoolers that are best friends. They do everything together. Their names are Gordo, Lizzie, and Miranda. One day Gordo finds his first true love. It was the hottest and most popular girl in the school. The strange thing was, she liked him too, or at least she thought she did. Lizzie and Miranda knew she was going to do something to make him feel bad. If you want to find out more about Broken Hearts, you will have to read the book.
I liked this book because it has Hilary Duff in it. I also like the Lizzie McGuire shows and book series. Miranda is mostly like me because she has all kinds of attitudes like me. Lizzie is interesting becasuse she is my favorite actress. This book goes with the TV series, Lizzie McGuire.
I recommend this book to kids 11 and up because there are a lot of intersting facts and details. The characters are funny, smart, and sometimes clumsy. Broken Hearts is a great book.