Beneath the Ghost Moon
Written by Jane Yolan
Illustrated by Laurel Molk
Reviewed by Jonathan C. (age 7)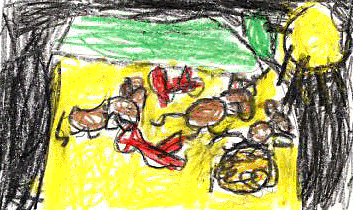 Something strange happens whenever the mice go to sleep. The creepy crawlies come out and ruin the dresses and necklaces. The mice decide to leave, but then the white mouse tells them not to give up. The mice get shields, swords, and slingshots. They scare the creepy crawlies away. Then everything is safe again.
My favorite part of the story is when the mice scare away the creepy crawlies because even though the mice are smaller and fewer than the creepy crawlies, they still fight back. It's great when the mice win back their home. This story reminds me of Pocohantas because the white man took over their land and the Indians had to fight to get it back. I really like the white mouse because he is brave and not afraid of the creepy crawlies.
I think you should read this book because it teaches you about courage.