Number the Stars
Written by Lois Lowry
Reviewed by Kyle P. (age 11)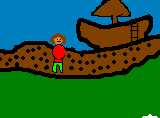 Do you like suspenseful books? Well this is the book for you, Number the Stars, by Lois Lowry. This book takes place in Copenhagen, Denmark. The main characters are Annemarie, Ellen, Uncle Henrick, Peter, and Annemarie?s mother. Annemarie is a silly little girl in the beginning of the story, but towards the middle of the book she gets more serious. Ellen is an escaping Jew. Ellen and her family are escaping to Sweden. Uncle Henrick is a fisherman that lives in the countryside. Annemarie?s mother is very brave. She helps the Jews escape. Peter is a part of the Resistance. He also helps the Jews escape.
When I read this book there were many thrilling parts. That?s why I recommend this book if you like a suspenseful book. I like this book because of all the cliff hangers at the end of each chapter. I also liked it because some characters changed. The plot of this story is the Nazi soldiers are taking over Denmark.
If you ever get the chance to read this remember these three questions. Will Ellen escape from Denmark? Will they get there safely? Will Annemarie ever get to see Ellen again when Ellen is free? It is your job to figure it out. I hope you like the book as much as I did.