The Rooster who Understood Japanese
Written by Uchida Yoshiko
Illustrated by Charles Robinson
Reviewed by Christopher S. (age 9)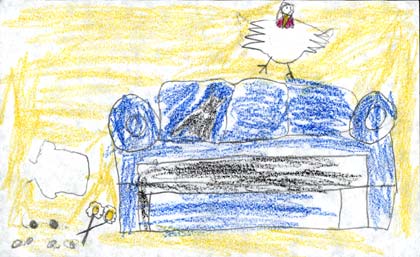 The story is about a rooster who understood Japanese. A woman named Ms.K and a girl named Miyo had a rooster named Mr.Lincoln, a cat named Leonard, a dog named Jefferson, and parrot named Hamilton. Miyo lived in a house covered with vines, but one day the rooster was in trouble because it was put in the yard. It was breaking the city law.
The reason Uchida Yoshiko wrote this story is to write books from around the world to please children. I like that the rooster understands Japanese and that it gets in trouble. It reminds me of the book called 'Bunny Trouble.' Both of the charaters get in trouble and then both save the day. They saved the day by the bunny kicking a ball to a barn and making a buffalo run out of the barn and hit the the wolves. The rooster saved the day by finding a new home.
I would recommend this book because it?s funny and it is one of the best books I ever read. I think that everyone would like this story because it tells about a rooster that needs a home and that Mrs. K has to find home for the rooster and in the end the rooster finally has a home.