The Rooster who Understood Japanese
Written by Uchida Yoshiko
Illustrated by Charles Robinson
Reviewed by Joseph Q. (age 9)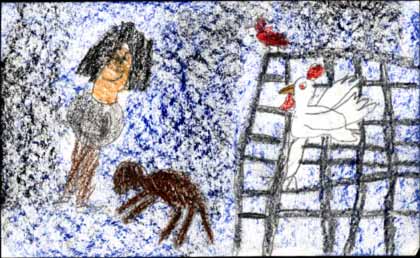 This is the story ?The Rooster who understood Japanese? by Yoshiko Uchida. Mr. Wickett wanted the rooster to leave because of his crowing at 6 o?clock in the morning. Ms. K. was upset because she had to get Mr. Lincoln another home. Mr. Wickett called the police because Mr. Lincoln was disturbing his peace. Ms. K. decided to have a party because of Mr. Lincoln getting a new home.
Yoshiko Uchide wrote the story so that Japanese American and all Asian American children can be aware of their history and culture. The main characters do good things for the people like bringing the rooster to another home.They eat food like sushi and rice and they eat with chopsticks.
This story reminds me of the ?The Streets are Free.? In both stories they got something new. The rooster got a new home and the kids got a new play ground. In the streets are free they go to city hall to get a plase to play.The mayor doesn?t show up so they make it themselves.
I recommend this book because it is about animals and some kids like animals. Kids who like fiction about animals will like this book.