Geraldine's Big Snow
Written by Holly Keller
Reviewed by student in Mrs. McDonald's ELL Students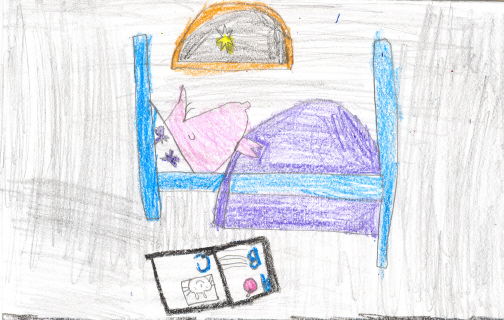 Geraldine is a pig who loves the snow. In the beginning of the story, she was waiting and waiting for the snow. She wasn't very patient. Mom said that if she didn't watch out the window, it would seem to snow faster. She went outside to wait for the snow and ran into some people that were getting ready for the snow. One was picking apples to make pies. One was looking for books to read. The other one was feeding the birds. Finally she went home and went to sleep. In the morning, there was a surprise. You have to read the book to know what it was.
I like this book because it is about snow. I like snow a lot. This book reminds me of when I first moved here. It was snowing. I had not seen snow before. I moved here from Mexico. It didn't snow in Mexico. It made me excited to see snow. I made little snowmen. This year, it snowed two times already. I heard that it was going to snow. I kept looking outside, just like Geraldine.
I watch the weather on TV to see if it's going to snow. I think Geraldine watched the TV too so she would know when it was coming.
My favorite part of the story was the very end because Geraldine went sledding. I have done that before, but it is scary.
I like the art in this book. I enjoyed drawing Geraldine. I like the colors in the book.
My big sister and my little sister would like this book. A lot of people would like this book. My cousins would like this book, but they wouldn't understand the words because they speak Spanish and this book is written in English. I wonder if this book comes in Spanish. If it did, other people could read it.