Arthur's Underwear
Written by Marc Brown
Illustrated by Marc Brown
Reviewed by VM4 (age 10)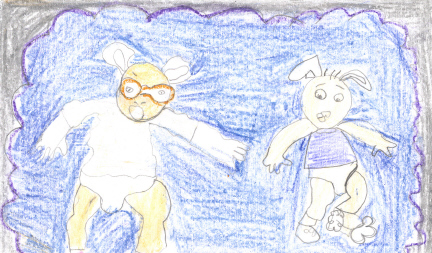 Arthur dreams that he went to school in his underwear. It made him scream because he didn't have clothes on. He told his best friend about his scary dream and his friend said he wouldn't tell anyone. His friend DID tell people, though. Everyone started making fun of him. Arthur said, "How could you tell everyone?!?!" His friend said that he only told some people, not all people.
Arthur has an accident that is very embarrassing. You will have to read the book to find out. That part is the funniest part of the book.
This book reminds me of other Arthur chapter books I have read because they have the same characters in them. I like Arthur books and cartoon a lot.
I have dreamed that I went to school in my underwear. I remember being scared. In the morning, I woke up and I was so glad it wasn't real.
My friends are good at keeping secrets. I know a girl that doesn't keep secrets very well. I'm not very good friends with her.
Arthur is my favorite character. He is funny and he is also honest. In this story, there is a character called "The Verminator" that I didn't like at all.
I think fourth graders should read this book. My 5 year old brother likes Arthur books, too. I think big kids should read this book to little kids.
Older kids might not like to read Arthur books. They might say they are for babies.
Marc Brown is a great writer and illustrator.