The Black Stallion
Written by Walter Farley
Illustrated by Keith Wards
Reviewed by Esther S. (age 9)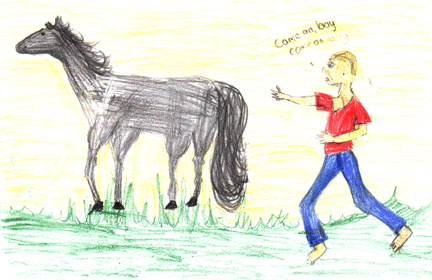 When Alec Ramsay?s ship docked at a small port, he saw the Black stallion trying to get free from the crewman that held him down. The stallion was way to strong for them. He reared up and jumped into the air. Alec could not believe his eyes when he saw an unbroken stallion! Days later, Alec and the stallion got stranded on an island alone. Alec tried to tame the stallion and have a relationship with him. Will this particular stallion out of all untamed stallions let him??
I would recommend this book to a person who likes horses and adventurous stories.
I liked this book because the author put such feeling and emotion in it. There were only a few black and white illustrations, but I didn?t mind because I could easily make mental pictures in my mind from the words. Only a few books have this kind of style so that?s why I think you?ll like it.