Fantastic Mr. Fox
Written by Roald Dahl
Reviewed by Skyler D. (age 7)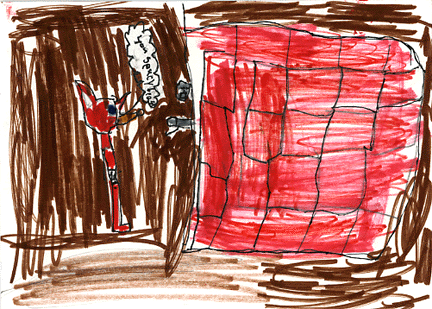 This story is about Mr. Fox and his family. Mr. Fox stole food from Boggis and Bunce and they stole cider from Bean. So all three nasty farmers grabbed their guns. They shot off Mr. Fox's tail. They tried to kill Mr. Fox and his family. First they tried to dig him out. Then they tried to starve him out. Then they tried to wait for him until he tried to run for it. But Mr. Fox dug holes to their places and he stole from them.
My favorite part was when Mr. Fox said, "You saucy beast!" to the rat. I liked this because it was crazy. It made me laugh out loud. My favorite character was Mr. Fox because he saved his animal friends. I liked this book a lot. It was hilarious!
I recommend this book because it is exciting. I'm eight years old, and I think people that like foxes should read this book.