Dinorella: A Prehistoric Fairy Tale
Written by Pamela Duncan Edwards
Illustrated by Henry Cole
Reviewed by Micah B. (age 7)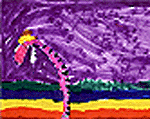 Dinorella, a dinosaur, has two sisters who are mean to her. The fairy comes and turns Dinorella into a beautiful dinosaur. Dinorella goes to the ball. At the ball a mean dinosaur hits the prince dinosaur. The mean dinosaur puts ketchup and pickles and mustard on the prince?s tail. Then Dinorella hits him with dirt balls and then throws a diamond earring at him. The prince finds the earring and tries to find the earring that matches. It belongs to Dinorella. The prince and Dinorella danced off into the dawn.
I thought this book was fun when Dinorella had diamond jewels. This book uses a lot of ?d ? sounds. This book reminds me of Cinderella. My favorite part of this book is when Dinorella meets the prince and she becomes a princess. That is my favorite because I like happy endings.
I would recommend this book to other kids. If you like fairy tales, you will like this book.