Double Trouble in Walla Walla
Written by Salvatore Murdocca
Illustrated by Salvatore Murdocca
Reviewed by Kyra H. (age 7)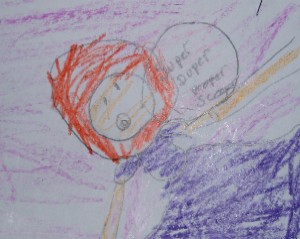 This book is about a girl who gets in double trouble. She has to go to the Principal's Office. She makes up all kinds of funny words.
My favorite part was when she said, " Super -Duper- Pooper- Scooper!" I think that is so funny. The pictures are really good. I like the girl's hair. It is wild. I really liked this book because of the words she makes up.
I recommend this book to people who like funny words. I really thought it was funny.