DW Flips
Written by Marc Brown
Illustrated by Marc Brown
Reviewed by Shanti S. (age 7) & Anna S. (age 7)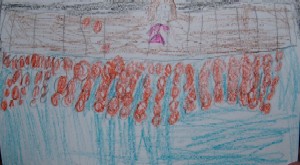 In this book DW tries to do a flip, but she keeps knocking things over. She tries at the super market. In the house and in the laundry room. DW doesn't give up . She practices every night until she finally does a flip at her gymnastic's class. She is so happy when she does one.
Our favorite part is when she knocks the oranges down at the super market. It is our favorite because it looks funny and the super market guy yells at her. Our connection is to when we tried to do a cartwheel. We practiced a lot until we finally did one.
We liked this book because we liked the illustrations. They were very colorful. Our favorite character is the super market man because he looks like a funnny animal. We know how DW felt when she finally did a flip because she probably felt the same way we did when we finally did a cartwheel.
We recommend this book to people who like Arthur books because we think they will like DW books too.