Dinosaur Beach
Written by Liza Donnelly
Illustrated by Liza Donnelly
Reviewed by Mitchell (age 6)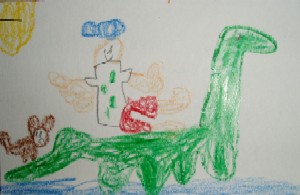 This book is about a boy who went to the beach. He made a sand dinosaur. Then a real dinosaur came and took him to Dinosaur Beach. There were dinosaurs everywhere and they were friendly. They spoke a different language. They made sand people on their beach.
My favorite part was when he rode on the dinosuar's back to Dinosaur Beach. I think it would be fun to ride on a dinosaur.This book reminds me of when I have gone to the beach. The boy was my favorite character because he rode on a dinosaur's back
I recommend this book to people who like dinosaurs and to people who like beaches.