Leprechauns Don't Play Fetch
Written by Debbie and Marcia Thorton Jones Dadey
Illustrated by John Steven Gurney
Reviewed by Amanda S. (age 9)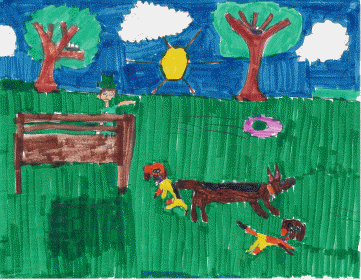 The main characters in the book are Liza, Melody, Howie, and Eddie. They solve mysteries. The setting is the pet shop. The kids have a problem. Mr. McDawale is telling them to buy his pet stuff because they have money. Their money is for candy but he keeps telling them to buy his pet stuff. They have to find out why he is being so annoying.
This book is part of the Bailey School Kids series. Each book has a different mystery. The kids have to solve them all. Each mystery is very different. The books are about different characters. The only characters who are the same are Liza, Howie, Melody, and Eddie.
There are some illustrations in the book. The book's illustration colors are black and white. I think they really match the story well. I think the illustrations are printed. They show the characters and some of the setting.
When I read these books I feel interested. It makes me think about how they come up with crazy ideas. I think it is funny when they try to prove things to each other.
I recommend this book because it is interesting. I would recommend this book to a person who likes mysteries. I think the characters will interest people. Kids in second grade to fourth grade would like this book.