Weslandia
Written by Paul Fleischman
Illustrated by Kevin Hawkes
Reviewed by Jack S. (age 8)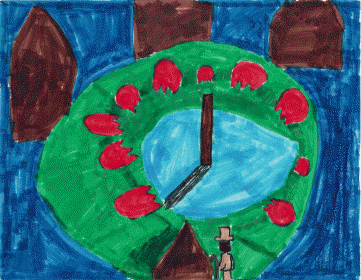 In Weslandia the main character is Wesley. Wesley makes a lot of inventions. Wesley refused to shave his head like all the boys in his school. Wesley has no friends at school. Wesley has a lot of mean friends though. His dad thinks he sticks out a lot and his mom thinks he's miserable.
At the end of the school year, Wesley's dad gave Wesley an idea. Wesley used the stuff he learned from school to make a project. He turned over soil and that night the west wind blew over his garden. Wesley's plants got really big and he couldn't find them in any plant book. A lot of animals came and stayed on his plants.
My favorite parts are when he is playing the game with his schoolmates and when he is building his platform for the hot weather. They are my favorite parts because they are exciting and interesting.
In Weslandia, Wesley changes in the end. At first, he has no friends. Then they all want to be like him. They dress like him and they like him.
I think the book was a good book. I really liked the book because it is really exciting and has a lot of details. A message in this book is never be mean to a person just because he is not like you.
I recommend this book to a second or third grader because it is an exciting book. If you like plants or like interesting books you will like this book. A kid that likes inventions would like this book too.