The Witches
Written by Roald Dahl
Illustrated by Quentin Blake
Reviewed by Nadia (age 9)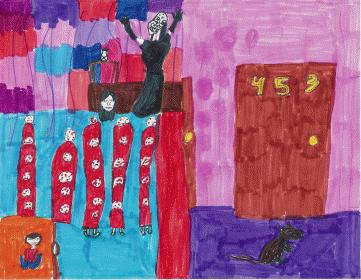 The main character is a boy. His parents died. Now he lives with his grandmother in Norway. She loves to tell stories. Her favorite story subject is witches. She knows a lot about witches. His father's will says that they have to go back to England. When they get there, the boy meets his first witch. His grandmother gets sick.
When she gets better, the doctor sends them to a special hotel. By accident the boy stumbles on the grand high witch's meeting and learns a horrible secret. The problem is that when he is at the meeting, he gets turned into a mouse. Soon he captures the potion that turned him into a mouse.
I really liked the book because it is funny and very exciting, especially at the end. I also think is interesting because the author explains the story so well and adds so much detail. I also think you should read it because it is so well written and makes sense.
I think that the grand high witch is very interesting because she is so different from the other witches. She is also mysterious because she never takes off her gloves and wig. It is very cool that she has an interesting accent. It sounds really raspy.
This book is very unique because it is so different. It is different from any other Roald Dahl book I have ever read. The characters act differently from the characters in other Roald Dahl books. It is also different from any book in general that I have ever read.
I would recommend this book to anyone with a sense of humor. I also would recommend this book because a lot of my friends have read it and liked it a lot. If you like exciting books you will love it. It might interest you the way you can recognize witches too. A good grade range for this book is from grade three to grade six.